zKinakoLTD: Apparel Development, Printing & Consulting Services: Stage 1: TPack Development
$400.00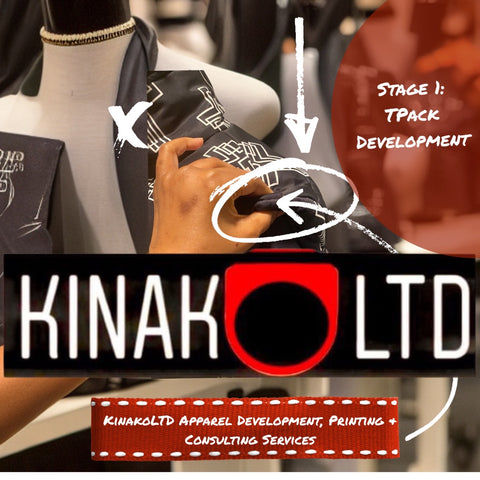 KinakoLTD: Apparel Development, Printing & Consulting Services: Stage 1: TPack Development
What You Will Get:

- A full TP (T Pack) for the one design discussed in consultation.
- Insights into executing like a designer.
- Comprehensive knowledge of designer terms and concepts.
- How to collaborate effectively with a design team and prepare for Stage 2.
Description:
In Stage 1, our Technical Designers (TD) will create a detailed TP based on the design you've provided during consultation. While they don't participate in the initial design process, they can provide valuable suggestions for enhancing or modifying specifications to improve the development proto. Additionally, our TDs do not source fabric or trims directly, but they can offer suggestions and engage in discussions about outsourcing these aspects. For fabric choices, we'll suggest options available within our partnered factories or in-house choices to complement your style.
Grading for the sample size (M) is included in this stage, with the possibility of additional pricing for graded sizes or size run production in Stage 2. We will guide you through any additional processes necessary for your project's success.
Additional Features:
- Learn to Execute Like a Designer: Gain practical insights and knowledge to help you think and work like a designer.
- Designer Terms & Knowledge: Acquire a deeper understanding of industry terminology and designer concepts.
- Learn how to collaborate on a Design Team: Get ready to collaborate effectively with design teams and understand the essentials of teamwork in the fashion industry.
- Factory Outsourcing Suggestions: Explore options for factory outsourcing to optimize your production process.
Stage 1 Pricing (based on style complexity) :
- Basic  TPack: $400
- Intermediate T Pack: $500
- Advanced T Pack: $600
zKinakoLTD: Apparel Development, Printing & Consulting Services: Stage 1: TPack Development
zKinakoLTD: Apparel Development, Printing & Consulting Services: Stage 1: TPack Development
KinakoLTD: Apparel Development, Printing & Consulting Services: Stage 1: TPack Development What You Will Get:…
Description

KinakoLTD: Apparel Development, Printing & Consulting Services: Stage 1: TPack Development

What You Will Get:


- A full TP (T Pack) for the one design discussed in consultation.

- Insights into executing like a designer.

- Comprehensive knowledge of designer terms and concepts.

- How to collaborate effectively with a design team and prepare for Stage 2.

Description:

In Stage 1, our Technical Designers (TD) will create a detailed TP based on the design you've provided during consultation. While they don't participate in the initial design process, they can provide valuable suggestions for enhancing or modifying specifications to improve the development proto. Additionally, our TDs do not source fabric or trims directly, but they can offer suggestions and engage in discussions about outsourcing these aspects. For fabric choices, we'll suggest options available within our partnered factories or in-house choices to complement your style.

Grading for the sample size (M) is included in this stage, with the possibility of additional pricing for graded sizes or size run production in Stage 2. We will guide you through any additional processes necessary for your project's success.

Additional Features:

- Learn to Execute Like a Designer: Gain practical insights and knowledge to help you think and work like a designer.

- Designer Terms & Knowledge: Acquire a deeper understanding of industry terminology and designer concepts.

- Learn how to collaborate on a Design Team: Get ready to collaborate effectively with design teams and understand the essentials of teamwork in the fashion industry.

- Factory Outsourcing Suggestions: Explore options for factory outsourcing to optimize your production process.

Stage 1 Pricing (based on style complexity) :

- Basic  TPack: $400

- Intermediate T Pack: $500

- Advanced T Pack: $600